Find your perfect ideas for Outdoor Entertainment.

Gone are the days when an outdoor kitchen would consist of just a side burner, a grill, and a refrigerator. Today, homeowners with big spaces are developing bigger outdoor kitchens and adding more items.
And while it may seem like a luxury rather than a necessity, an outdoor kitchen is a very practical addition to your home. It's a great entertainment hub, makes cooking easier, saves on utility bills, and increases your home's value. But not every outdoor living design will have you enjoying these benefits.
This post outlines 9 of the best modern outdoor kitchen ideas that will leave your home looking all-attractive. In it, you'll get to know some of the best designs that include space for entertaining guests in grand style.
Let's get started!
"Design is thinking made visual."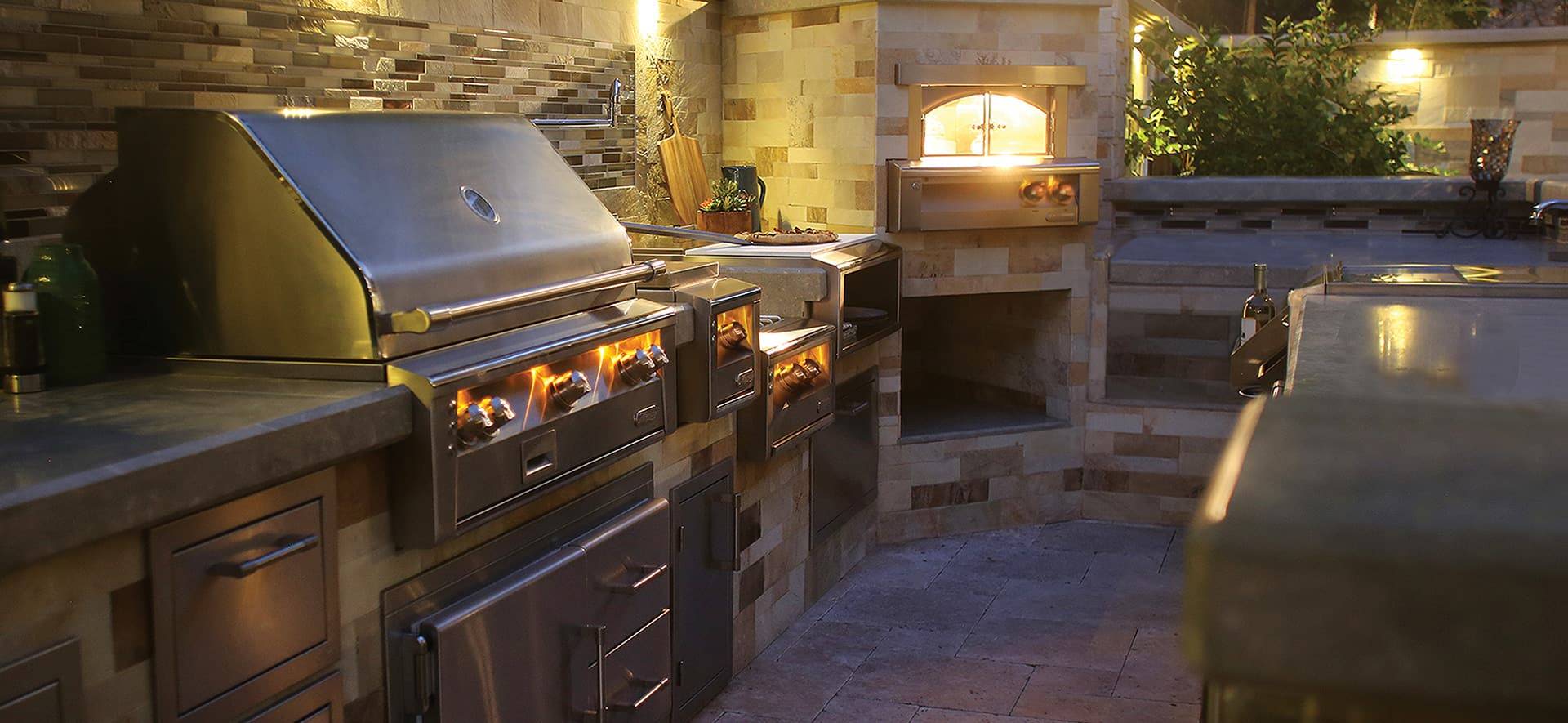 When it comes to outdoor kitchens, there is no one-style-fits-all design. Several factors affect the kind of outdoor kitchen design that fits your home, including the amount of space, your desired look, and the kitchen components you have.
However, some designs can be used in most homes and still provide the aesthetic and class any homeowner would want.
Check out Outdoor Kitchen Pro Best Outdoor Island Ideas
Here are the nine best ideas for an outdoor kitchen:
1.     The L-shape idea with power burner
L-shape kitchens are popular, and here is why: they're versatile, ideal for corners, and can be customized. And yes, the L-shape in an outdoor kitchen adds class to your home too.
You can add a lobster boil and make side dishes in this space area. A power burner in this kitchen ensures you cook for your family and guests whenever they come visiting. Even better, the L-shape provides you with more storage spaces in your kitchen.  
2.     Brick Porch Kitchen
As the name suggests, this outdoor kitchen features bricks nicely tucked to offer an attractive appearance to your home. You can have different appliances here, including a DCS gas grill, a sink, refrigerator, etc.
3.     Straight island with combo storage
If you want a basic outdoor kitchen, this design is perfect. This design features a rustic stacked stone finish and gives your home an attractive appearance. What's more, you can fit in pretty much any home aesthetic.
You can have a grill, fridge, burner, and combo storage. And what's better in a kitchen than combo storage? Storage spaces that allow you to store your accessories and allow you to cook freely. Nothing, right?
A dark wood pergola adds class and design to classic, adobe-style stonework in a kitchen. This outdoor kitchen features southwest flair with orange stones that resembles stainless steel and the desert, providing striking contrast in your home.  
You may use darker red tile on the countertops to add to the aesthetic. Brightly colored tiles also provide an unexpected pop color in the kitchen. Finally, add a grill and a sink to your setup to have the full outdoor kitchen package.
5.     Beach beauty
Yes, it's possible to bring an attractive beach appearance to your kitchen. Soft blues that reflect the sky and ocean can give your outdoor kitchen a colorful and cheerful feeling. You can have a built-in grill, a sink, cabinets, and a refrigerator in this kitchen area to make your cooking easier.
6.     Patio kitchen with bar, sink, and fridge
This design is a full-scale outdoor dining area. It provides you with an extra counter for preparation and serving. Even better, this setup allows your guests to sit with you as you prepare the meal. You can have a grill, a mini-fridge, and a sink in this cooking area.
7.     L-shape with mini pizza oven
L-shaped again! Yes, that how popular the L-shaped kitchen idea is! This outdoor kitchen idea features several appliances, including a burner, grill, refreshment center, and, most importantly, a pizza oven.
The refreshment center has a drop-in cooler to keep your beverages cold. The mini pizza oven allows you to cook pizza for your family members and guests. There is also a convenient towel to maintain clean and dry hands.
8.     Backyard entertainment area
This idea features a curving unit with a built-in seating area, a stone fireplace, and a kitchen. The backyard is fenced using a mix of stones, wood, and pergolas to provide an attractive appearance to the kitchen area.
9.     Agrarian Kitchen
This stone kitchen has a modern interpretation of living close to the land. It's close to the garden, allowing your family and guests to enjoy their favorite meals as they enjoy the freshness of the garden.
Be healthy by being outdoors in the natural daylight with nature!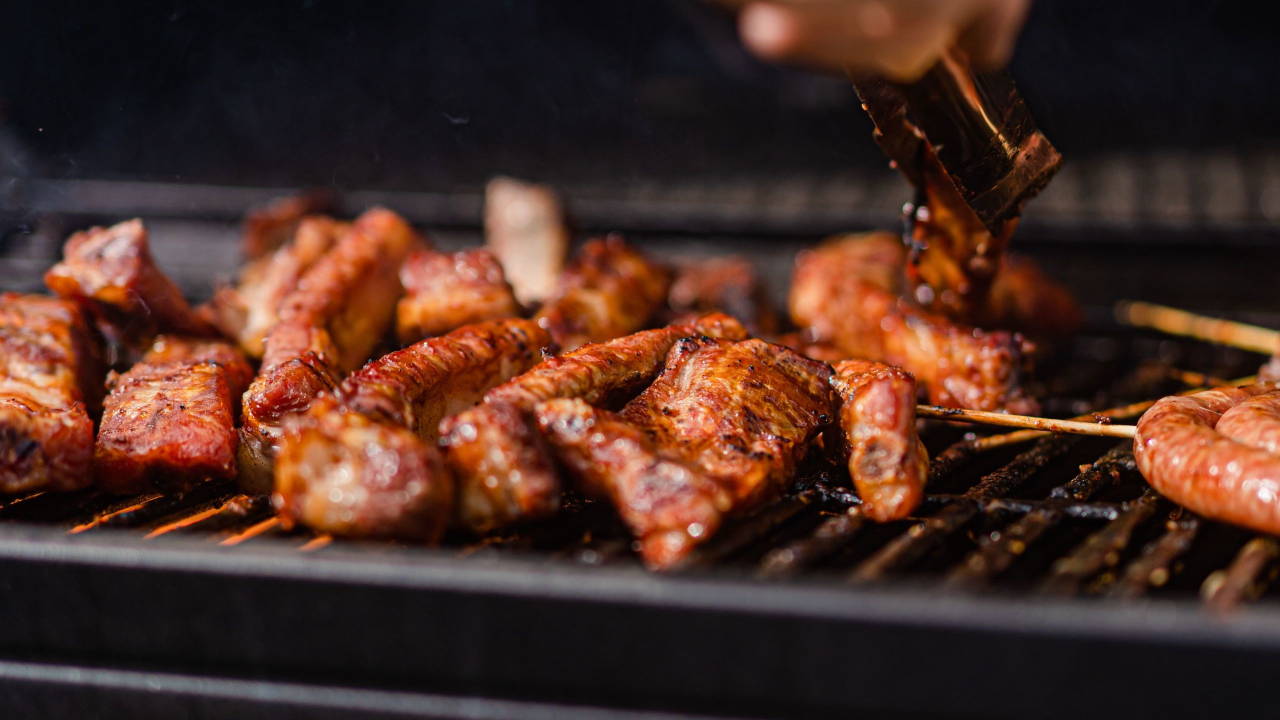 The bottom line
Let's face it: there is nothing as more satisfying as having your favorite meal or drink outside, especially when the weather is warm and pleasant. But not all outdoor kitchens provide the aesthetic you may need in a home. This article features 9 of the best modern outdoor kitchen ideas.
Good luck as you navigate outdoors.
CHECK OUT OUR COLLECTIONS